Here are our top tips for submitting your comments – the deadline is 21st December 2021:
Make it clear if you are objecting to or supporting the plans
Make sure you include your correct postcode
Put your comments in your own words (copy & paste responses are often ignored)
You might want to type your response somewhere else first, then copy and paste it into the text box on the site (the limit is 8,000 words)
If you feel strongly about something, make that clear
Planning officers can only consider certain types of issue; these are called material objections. The image below has examples of some material objections as well as other issues that planning officers won't consider.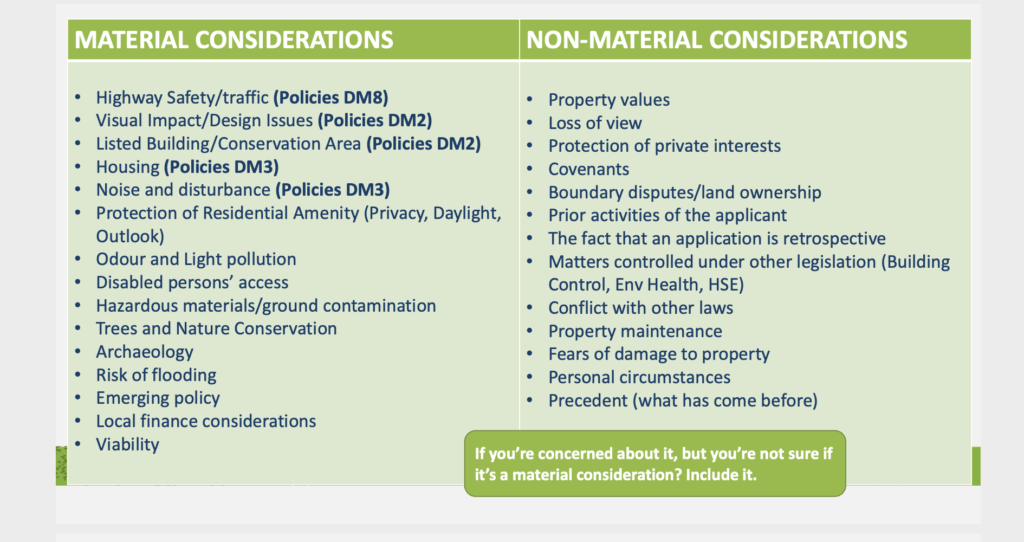 There are over 330 documents in the application and campaign members have been sifting through them. 
In the five years this campaign has been running, we've engaged with thousands of local residents. Keeping in mind the issues they have raised, HERE is the start of our analysis of what is wrong with the current plans and HERE is more info specifically about the Women's Building. This will be updated as we get further through the documents. 
We recently held an online public meeting to go over the biggest issues local people have with the redevelopment plans. With assistance from Planning Aid For London we got guidance about how to respond to the council's consultation, including which issues planning officers will consider and which they won't. We also heard from Mandu Reid leader of the Women's Equality Party, Sian Berry GLA assembly member, a Labour Party rep and others.
Below is a clip from the meeting, in two parts, with a guide from Planning Aid for London and their presentation. We advise everyone to go over these before submitting their responses. There are also clips from presentations by CP4H campaigners Sarah Wigglesworth about the Women's Building and Jonathan Ward about the plans more generally. 
When you're ready to submit your comments, the planning application can be seen here and comments can be left here. The planning reference is: P2021/3273/FUL
*** It is best to use the online form, but for anyone who can't it is also possible to email comments – planning@islington.gov.uk quote reference P2021/3273/FUL ***
Many thanks to Planning Aid for London for their support. If you came to the public meeting, please complete their survey here